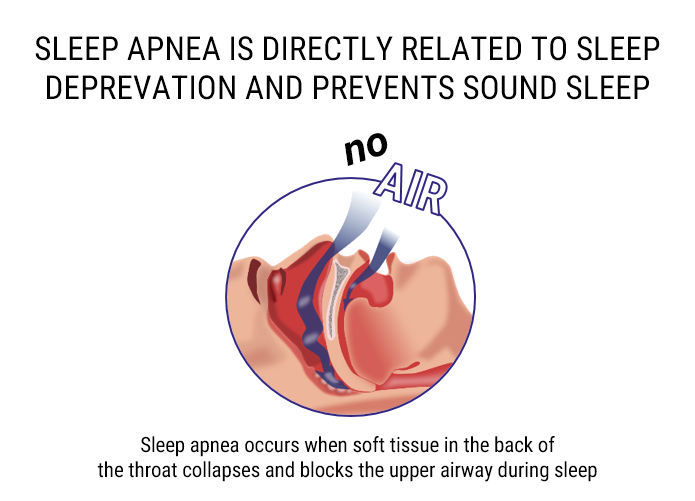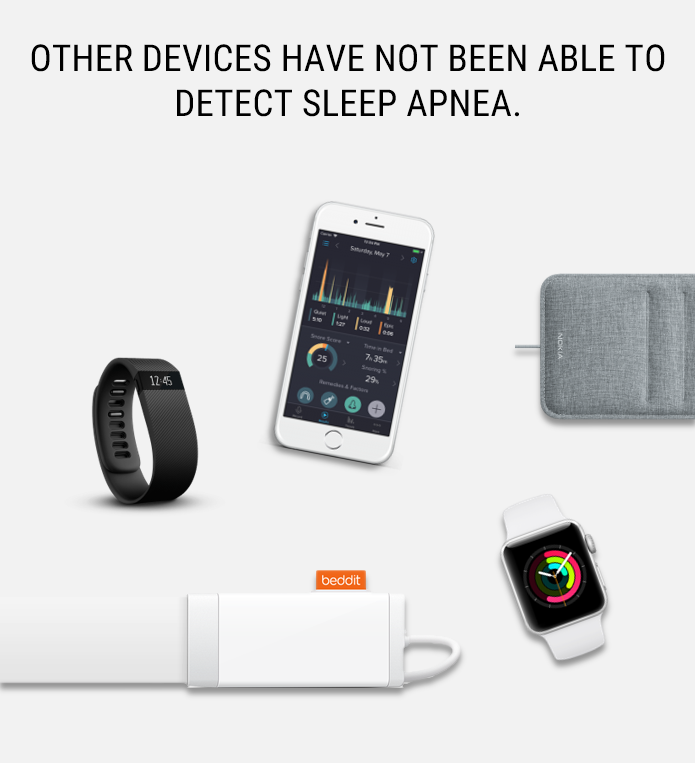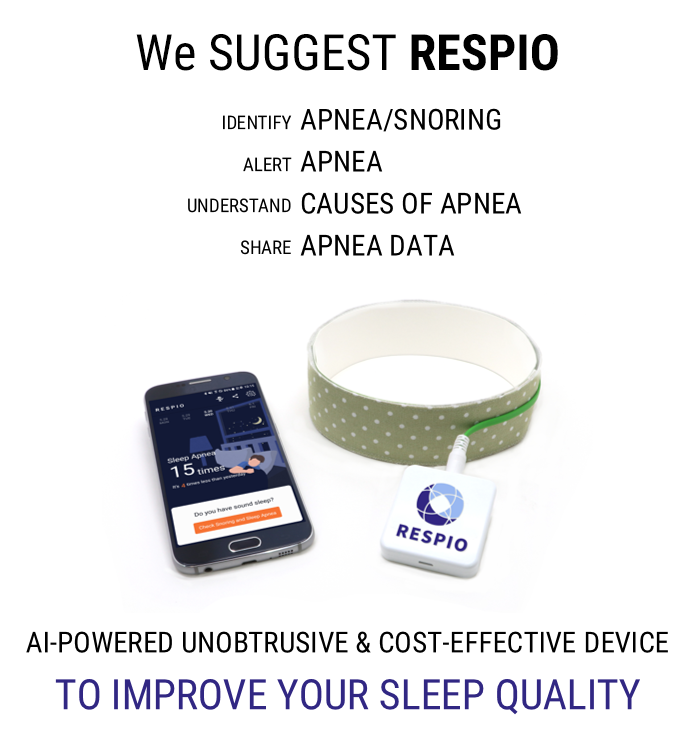 Sleep Apnea - Risks and Diagnosis
Sleep apnea is a common sleep disorder characterized by repeated interruptions in breathing during sleep. These interruptions are caused by the collapse of soft tissue in the airway. Sleep apnea disrupts the sleep cycle and can dramatically impact energy and mental performance.
| | |
| --- | --- |
| | |
| Normal Breathing | Occurrence of apnea |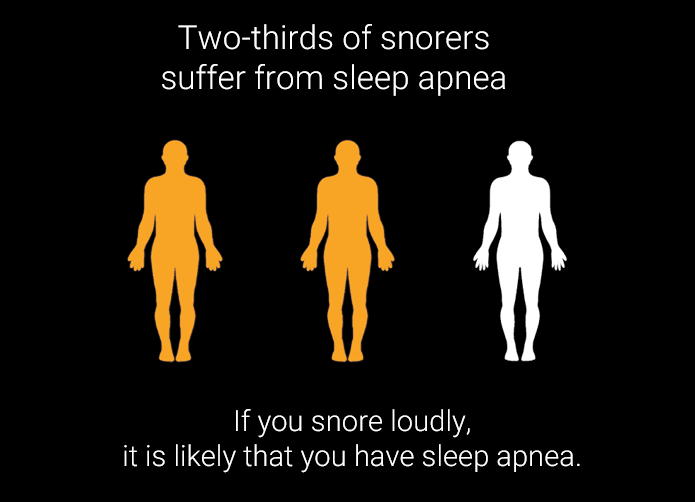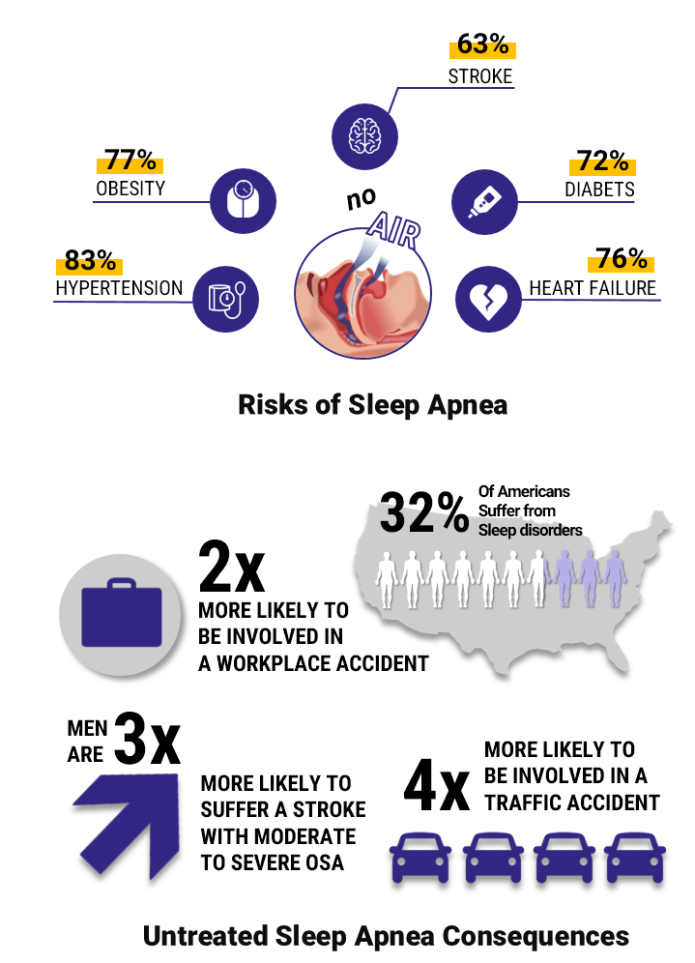 If you have symptoms of sleep apnea during sleep, you can get a polysomnography test for $1,000 or more at the sleep center. However, you don't have to.
We have developed a new sensor RESPIO that can measure sleep apnea easily and simply at home. You can test sleep apnea with RESPIO at 1/20 the price of the Polysomnography test.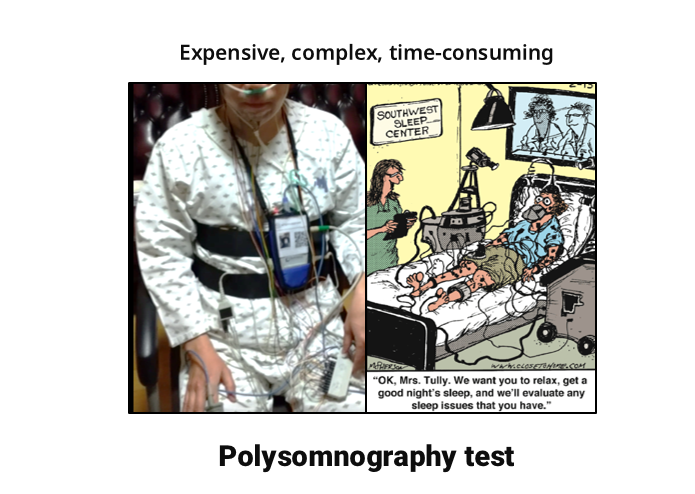 Our campaign: RESPIO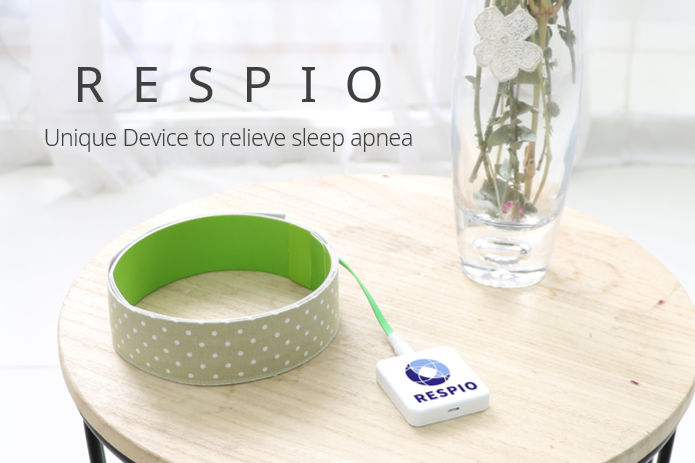 A revolutionary new sensor that analyzes your sleep automatically.
Respiration Rate / OSA, CSA tracking
Cause of sleep apnea / Sleep apnea alarm
Snore recording / Sleep data sharing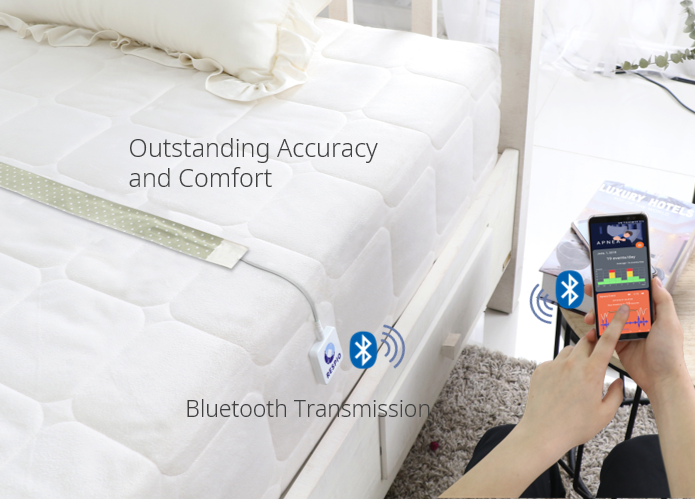 Respio Sensor is optimized for breath measurement and provides significantly more accurate detection data compared to conventional devices. Breathing data during sleep is transmitted to your Respio App by Bluetooth.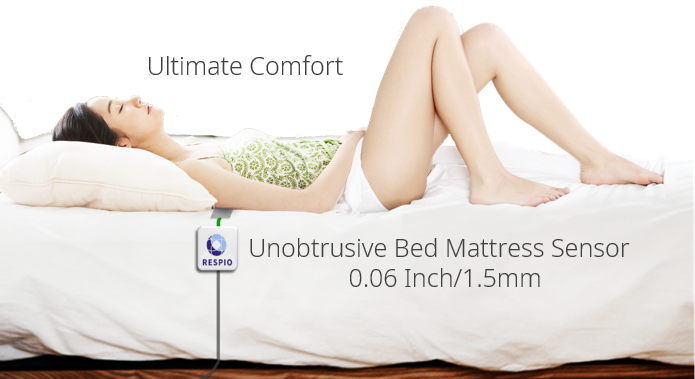 RESPIO uses an ultra-sensitive breath sensor to measure sleep apnea. It is very thin and flexible, so there will be no discomfort or interference while sleeping.
RESPIO APP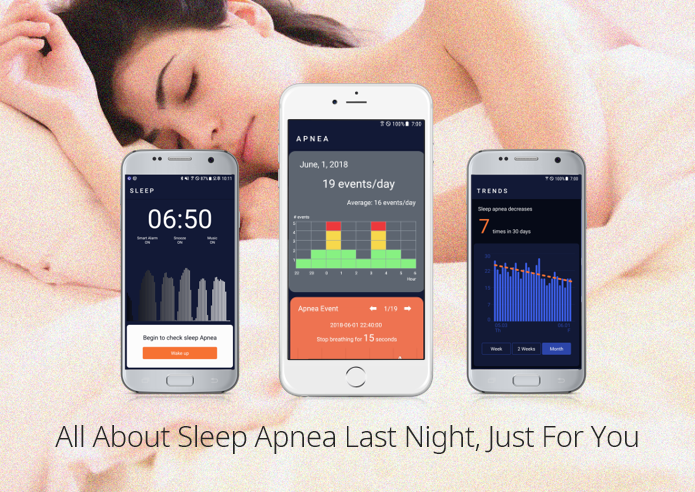 While sleeping, RESPIO App measures breathing with RESPIO Sensor and finds sleep apnea. It records sounds by using your smartphone microphone and finds snoring.
Our technology does not only rely on sensor measurements but uses snoring sounds together to detect sleep apnea more accurately.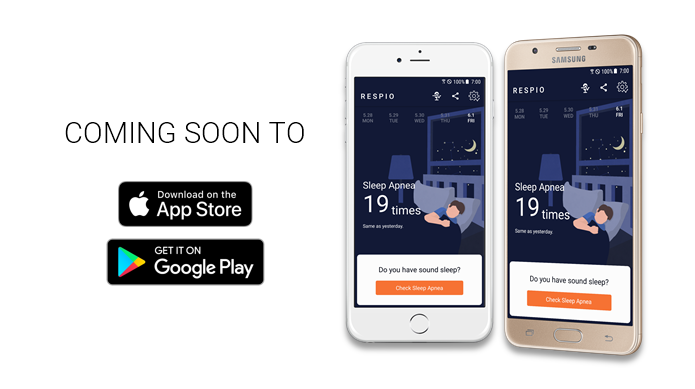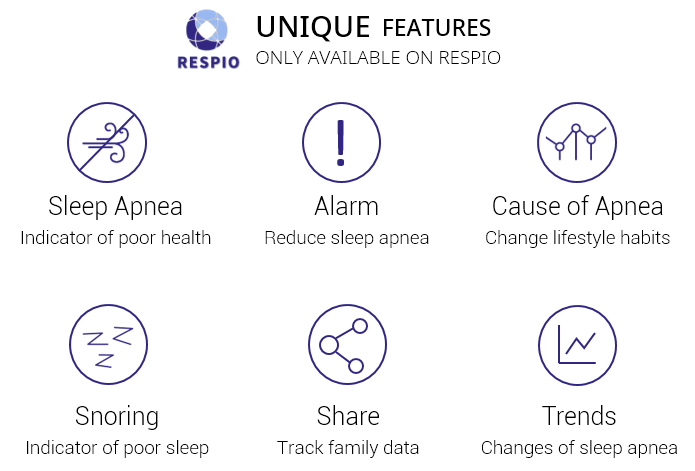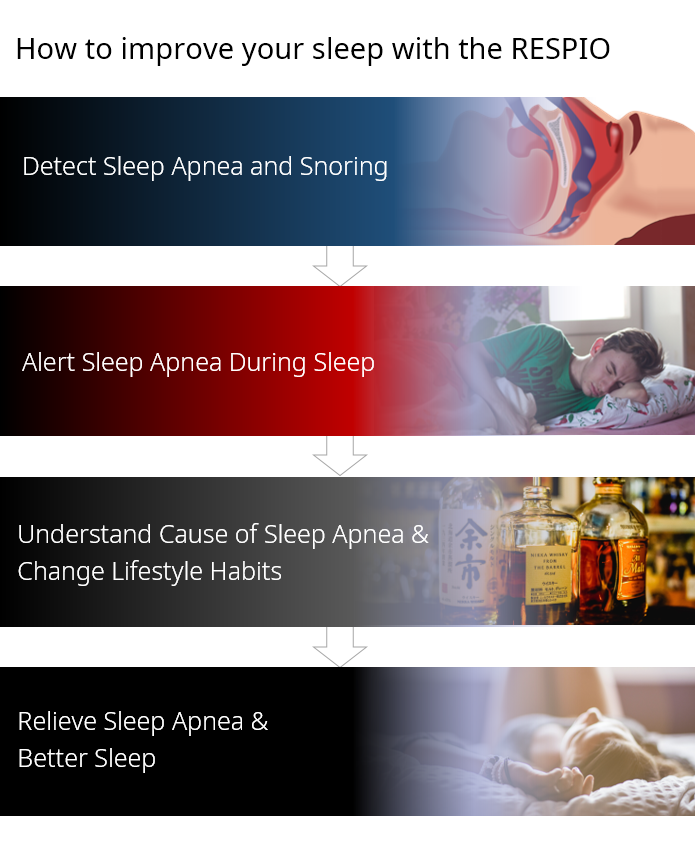 Detect Sleep Apnea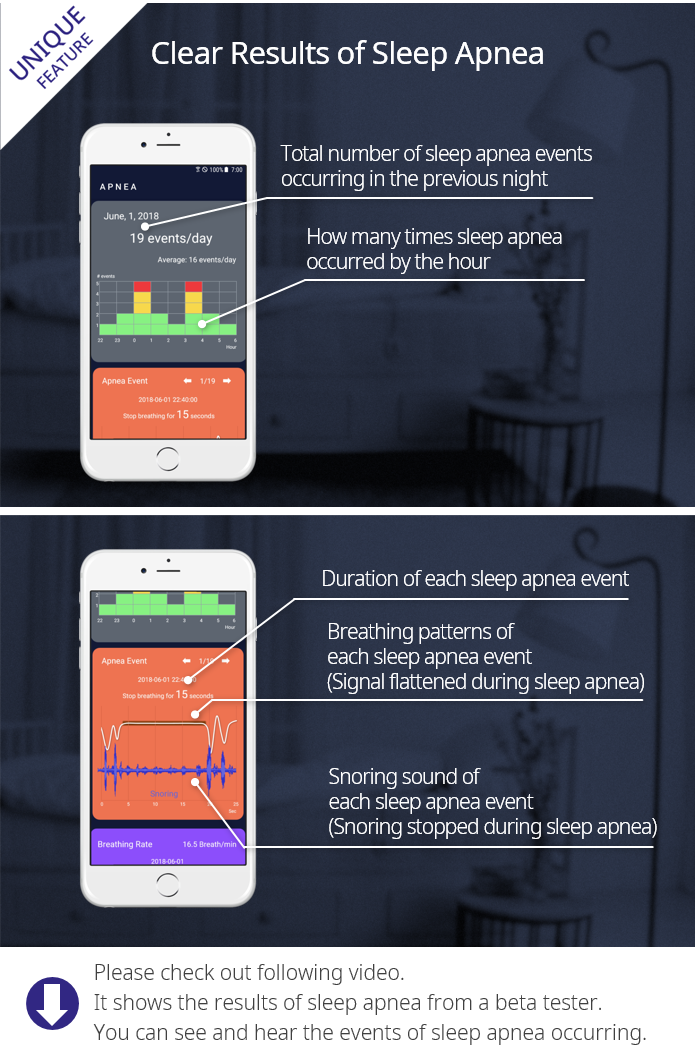 Record Snoring
Respio app records sounds by using your smartphone microphone and finds snoring. It never records except when snoring. All snoring sounds are encrypted and stored in a file which cannot be accessed except by you.
Alarm Sleep Apnea
Whenever apnea for 10 seconds or more is detected during your sleep the vibration will alert you to increase the chance of you unconsciously changing your sleep position, diminishing the sleep apnea.
Understand Causes of Sleep Apnea
RESPIO App analyzes your sleep apnea and life patterns to find the most likely cause with machine learning techniques. RESPIO App collects the physical information and the daily activities of the user when measuring sleep apnea. By analyzing sleep apnea and activities for more than two weeks, we find the factors that have the greatest effect on sleep apnea. Users will be able to manage the factors that have the greatest effect on sleep apnea and gradually reduce symptoms.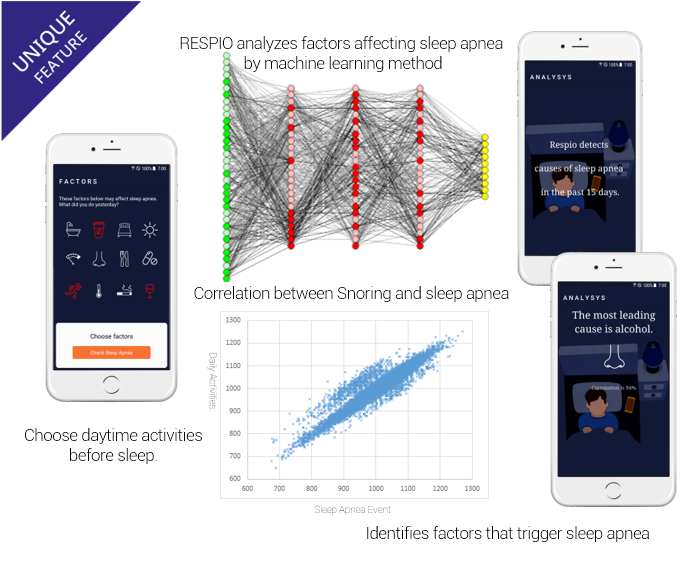 For sleep apnea analysis, RESPIO App collects the following physical information;
Gender, Height, Weight, Medical History and so on.
Daily activity factors include;
Alcohol, Caffeine, Smoking, Fever, Work out, Medicine, Stuffy nose, Shower, Sunlight exposure, Stress, Change of sleep environment and so on.
RESPIO would never force you to enter your personal information and daily activities to analyze sleep apnea if you are concerned about your privacy.
Share Sleep Apnea Data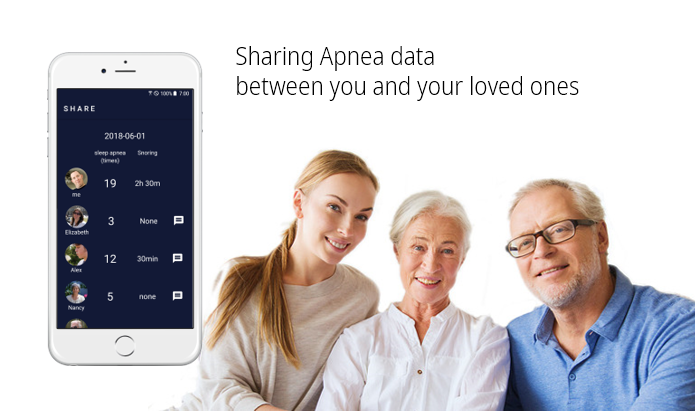 A user can allow a spouse, parent, or other members of their family to view their sleep apnea result.
Additional features
<Respio Sensor>
Our unique sensor with Integrated breathing measurement technology. The interior features a pressure sensor. The exterior is made of 100% cotton. Respio sensor transmits breath signal to Respio App via Bluetooth 4.0. It's powered from a Y-shaped power cable included with the package.
Sensor Dimensions: 32"(length) X 1.5"(Width) X 0.06(Thickness)

<Y-shaped power cable>
With user test feedback we have developed a unique and convenient USB Y-shaped power cable. It can deliver power to RESPIO Sensor on the mattress and your smartphone at the same time. The USB connector at the end of the long cable is connected to Respio Sensor and USB connector at the end of short cable is connected to your smartphone installed with the Respio App. You can clean up the complex power cables that connect the sensor and the smartphone.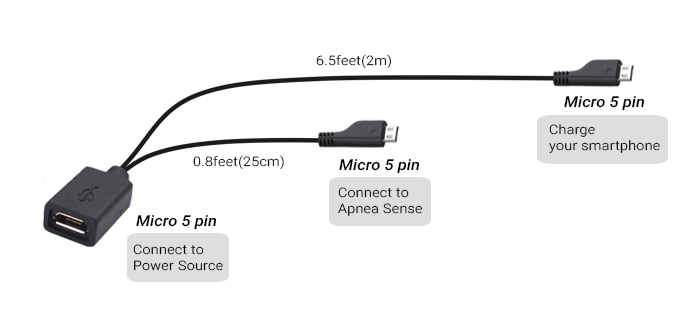 <Safety>
We added many safety circuits and tried various tests because Respio Sensor is installed on bed mattress during sleep. Many people have worried about electrical shocks or fire from the sensor.
(1) Safety against moisture
Respio Sensor operates at 3.3v. 3.3 V is not dangerous because it is as low as two typical batteries(1.5v x 2). We had an experiment to pour water into the sensor to check electrical safety. The sensor worked normally and there was no electrical leakage.
(2) Don't worry about the effect of electromagnetic radiation,
We have already tested RESPIO in an anechoic chamber with EMI Tester. Electromagnetic waves are released at a safe level from 9 dBuV/m to 18 dBuV/m.

Set up
Place the sensor on a bed mattress and cover the sensor with a bedsheet. The sensor should be placed between your chest and abdomen. RESPIO works best if the thickness of the sheet is less than 2 inches.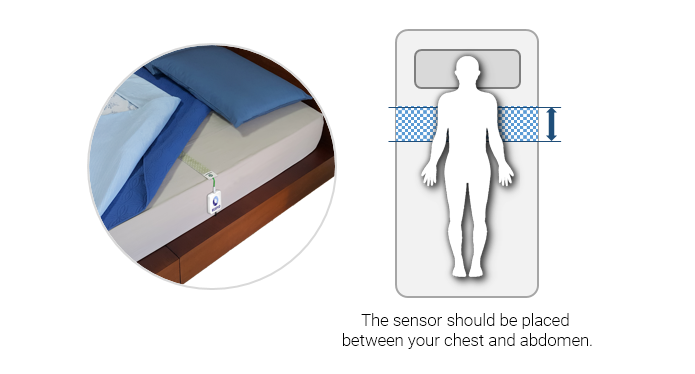 You can download 'RESPIO' app from the Apple app store or the google play store. After running the app, Bluetooth pairing should be done. It's paired automatically if you use only one RESPIO.

RESPIO Technologies
RESPIO sensor measures subtle pressure changes caused by chest and abdomen movement. The chest and abdomen move according to the breath. Respio sensor placed on the mattress, measures the movement of the chest and abdomen during respiration.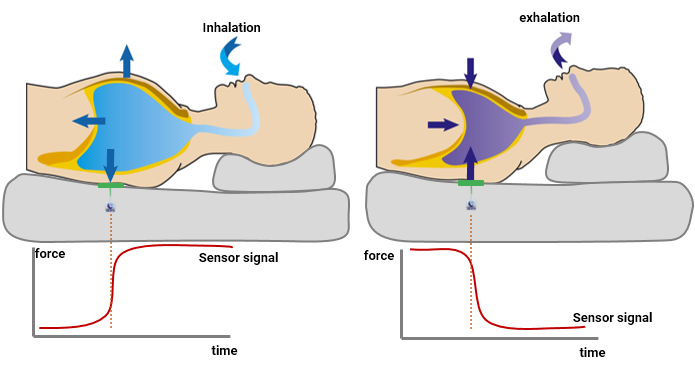 When you breathe in, your chest and abdomen both expand at the same time. The sensor detects this movement. So when you breathe in, the sensor graph steeply increases.
When you breathe out, your chest and abdomen both return back to the original shape. Respio sensor detects this contraction, and the sensor graph decreases.
This video shows the change of the sensor value on a desk, not a bed, for the sensor test. It shows the signal changes when I touch the sensor by hand for sensor test. When I apply force to the sensor with my fingers, the sensor value increases greatly, and when I release the sensor, the sensor value decreases. The oscilloscope next to the laptop also shows the same results.
This video shows sensor signal changes when normal breathing and sleep apnea occurs after the RESPIO sensor is installed in bed . In normal breathing, the signal is measured accurately during the inhalation and exhalation cycles, and you can see that the signal remains flat during sleep apnea.
What People Are Saying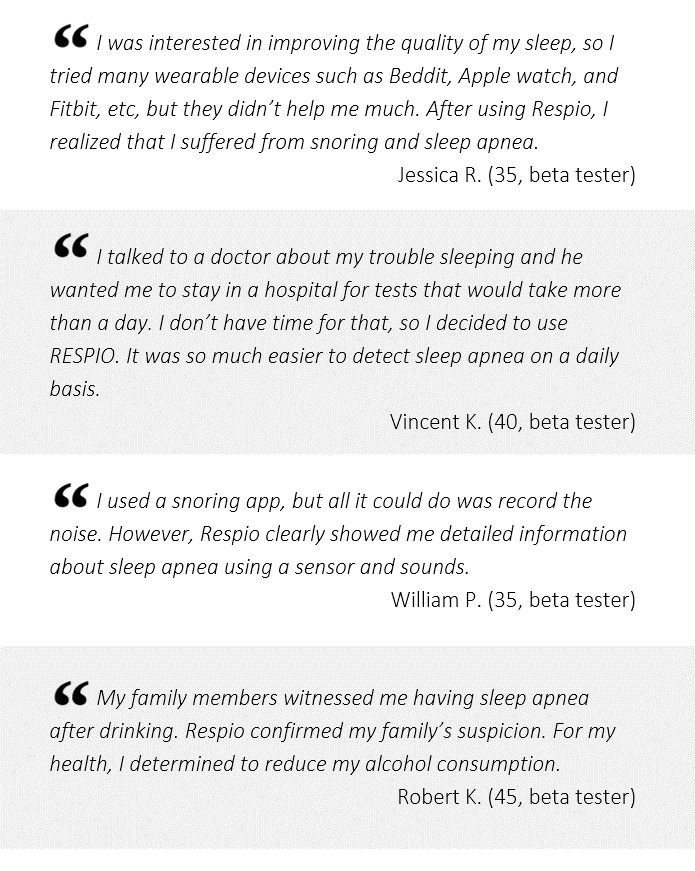 Production Stages
RESPIO is ready for production. Here are our Functional prototypes made with real injection-molded housings and our final circuit boards.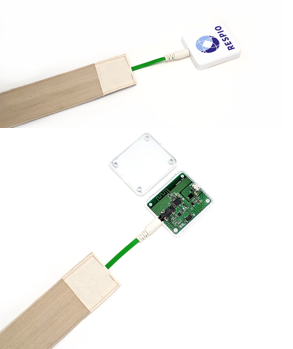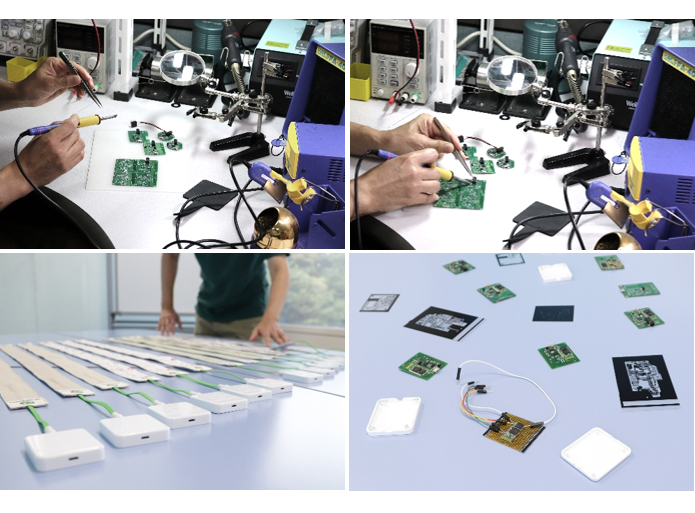 RESPIO's unboxing
Team
Our team comprises software developers, hardware engineers, AI researchers, and product to market practitioners. Though diverse in background, our team is unified in our vision: "Improving Health". Building in-house, software and hardware is not easy, especially in such a category as new as biosignal measurement sensors, but we know this is the only way we'll be able to deliver true innovations.

FAQ
<General>
Q: Did Respio go through the FDA 510(k) clearance process?
A: No, Respio is not a medical device. It is an electronic product not meant to diagnose and treat any disease or illness. But our design team has dedicated their careers to designing many bio-signal sensors and medical devices. We applied acquired technology to the development of Respio. If you have any concerns or questions about your health, you should consult your physician or other health care professionals for medical advice, diagnosis or treatment.
Q: What do I get when I order?
A: Respio sensor, Y-charging cable.
Q: How can I contact your team?
A: You can send us a message directly on Indiegogo or contact us at info@respio.net
Q: How long is the warranty on RESPIO?
A: Warranty is included up to one year.
<Respio Sensor>
Q: Can I put it on like a belt?
A: No. It was designed only for a bed.
Q: Can it measure sleep apnea with sleeping on my left side?
A: Sure, Your sleeping positions do not matter because RESPIO detects your chest expansion and contraction. Just place it near your chest.
Q: Can I use it for two people sleeping in the same bed?
A: Yes, RESPIO is designed to track sleep in a shared bed. However, you will need one sensor and one phone per person.
Q: How do I connect it with my smartphone?
A: Just follow the instructions in the tutorial.
Q: Can I use it with a pet during sleep?
A: No. Respio can measure only one respiration signal. If you share the bed with your pet, the Respio cannot measure your sleep apnea.
<RESPIO App>
Q: What platforms do you support?
A: We support iOS and Android. You can download RESPIO App in the Apple's App Store or Google Play Store.
Q: Will the App have version updates?
A: Yes. Regular version updates will be available.
Q: How does it record snoring sounds?
A: We use the smartphone microphone. If you want to record sound of snoring, you should place the smartphone next to your bed. Of course, if you do not want to record snoring, you may not record.
Q: Could the recording of snoring lead to privacy problems?
A: The Respio app does not record all of the sounds during the entire sleeping period. It obtains a 40-second clip and stores it in the smartphone's private storage when it detects snoring. It never records except when snoring. All snoring sounds are encrypted and stored in a file which can not be accessed except by you.
<Delivery>
Q: When will RESPIO ship?
A: We are expected to ship in Oct 2018.
Q: Where can you ship?
A: We can ship worldwide with the exception of Saudi Arabia, Peru, Ecuador, Macedonia, Kosovo, Cuba, Iran, Iraq, Lebanon, Libya, Somalia, Sudan, North Korea, Syria, Yemen and military locations.
Q: How much is shipping?
A: Please see the flat fee pricing for your country within your perk.
Q: Am I responsible for taxes and duties in my country?
A: Keep in mind that you are responsible for paying your own country's taxes and duties. It does NOT include any stuff such as VAT, local tax, customs fees or any other local/government/customs related material since it could be different from country to country. It will be the backer's responsibility to deal with the local shipping requirements.
Q: What happens if I change my address before you ship?
A: Before we ship your order, you can change the shipping address.